A trait I first embraced well before my 20s and will likely continue to far beyond them, procrastination, has led to a more delayed publishing schedule than I would have liked. I have several more Distinctive Occasions Of My 20s (DOOM20) to highlight, and would like to get as many published before the big 3-0 as possible. This may lead to a more hectic posting schedule, so stay tuned.
—
The backbone of any good trip is a solid plan. There can be wiggle room for improvisation and spontaneity, but it's better to have planned a little than to have winged it the whole way through. I've planned an excursion or two in my day, and most have had an itinerary planned days or weeks beforehand. My big trip to Europe around New Years 2023, for example, featured a robust spreadsheet that, while not 100% filled in when I first got on the plane, gave me enough structure to plan impromptu outings without the entire trip going haywire. By the end of the trip I was very proud of myself for coordinating all of the hotel, train, and plane reservations successfully without stranding myself.
Becoming an impeccable planner did not happen overnight. Over the years I've made several mistakes that continue to inform the decisions I make today. Two of the "worst" mistakes I made, one in 2017 (well technically the mistake happened in 2016, but was rectified in 2017) and one in 2019, rather than sink my vacations into chaos, serendipitously provided additional opportunities to thrive once I returned home.
—
By 2016, the allure of a west coast trip was becoming too much to bear. The furthest west I'd been up to that point was a college visit in St. Louis, and I'd always wanted to see what California was all about. Having friends from school, camp, and other activities who I hadn't seen in a long time was the excuse I needed to book my solo ticket westward. With what at the time felt like great foresight, I booked a roundtrip flight to California, including a leg from NorCal to SoCal, four months in advance in September 2016. The trip wasn't to take place until early January during the last days of the Obama presidency, but I wanted to commit to the trip early so that there would be no excuse to push it off to another date. Booking hotel rooms for each stop came shortly thereafter. Proud of myself, I continued on with life without thinking for a moment that I could have messed anything up.
But I did.
Two days before I thought I was supposed to leave for California, I received a flight confirmation email from Delta. Being a veteran of many flights thanks to going to college roughly 900 miles from home, I knew airlines never sent confirmation emails more than 24 hours before a flight, so something was up. Lo and behold, after doing some digging, I discovered I had booked my outgoing flight for Friday instead of the intended Saturday. Hotel reservations were still made for the correct days, as were the rest of my flights, but I had unwittingly set myself up to be unhoused for a night in San Jose. I called Delta's customer support line to see if there was any way to change the flight, and their response was that while it was possible, it would set me back $200. Appalled, I politely declined. My San Jose-based friend was willing to let me stay the night at his place, so when I showed up to JFK the next day I knew that my plan had been somewhat salvaged.
There were quite a few people at the gate Friday morning, but for a flight from New York to Los Angeles that was to be expected (I had a one-hour layover in LAX before connecting to San Jose). Around 30 minutes before boarding, the gate agent came over the loudspeaker to welcome us to our Delta flight, as well as to ask if anyone was willing to give up their seat on the oversold flight for $800 and a seat on a later flight.
The cogs in my brain whirred to life. While traveling to and from Atlanta I was always tempted by offers to sell my seat on oversold flights, but circumstances never allowed me to follow through on it. With literally nothing set in stone in my schedule until Saturday, and a home easy enough to return to, I was the first to approach the desk to claim my prize. The gate agent was surprised when I asked for my flight to be rescheduled for the following day, but she was able to book a seat (this time connecting through Las Vegas) no questions asked. I provided my address for them to deliver the American Express gift card they promised, which had been bumped up to $900 since they weren't able to entice enough people with $800. For the second year in a row, I had secured almost $1000 in surprise moolah, not to mention saved an additional $200 for not rescheduling the day before! My roommate was very surprised to see me when I returned to Queens later that day.
The American Express cards arrived a couple weeks after the conclusion of the trip (during which the only other hiccup was half of the people I came to visit getting sick thanks to the fact that it rained in the state for the first time ever all that week). Since Amex only has predetermined values for their gift cards, I received one $500 card and four $100 cards. Just as the $1000 I won the previous year had come at an opportune time, so too did these gift cards, as I was only days away from moving to my second apartment. The majority of the gift cards went to purchasing a new mattress, since my new bedroom could fit a bed larger than a twin. The remaining balance went towards buying a new TV for the living room (which led to the "Dell Trials," which TL;DR consisted of making three separate purchases from Dell dot com that each necessitated a week-long communication with their customer service line). These purchases weren't as fun as buying a Wii U, but they're rewards I'm reaping the benefits of still to this day.
— 
The second planning error in 2019 followed a similar plot. 
Needing a little time away from New York, I booked another solo trip via Amtrak to Philadelphia for a long weekend in April. At the time of the trip, I was at the beginning of a search for yet another apartment. My current roommate was moving out (ironically enough, back to Philly), and it was time for me to shake things up with an apartment of my own. Since my current lease wasn't up until the end of May, all I had been doing up to that point was window shopping on StreetEasy, Craigslist, and other rental websites. With my ideal move date of May 15 more than a month away, I wasn't super serious just yet.
I requested time off from work through the company's online portal in February, and only once it was approved in the system did I officially start the trip planning process. Sometime between requesting the days off and booking the trip I forgot how many days I'd requested, for it was shortly before the trip was set to begin that I realized I had requested one more day than I'd needed. I was only going to be in Philly from Saturday to Tuesday, yet I had also requested the Wednesday after as well. Not too keen on giving back days once I'd secured them, I decided to figure out what I'd do that extra day at a later date. While this was a mistake on my part, it created more opportunities than headaches.
I brought my laptop along on the trip just in case I wanted to relive the rush I felt during my last visit that coincided with NaNoWriMo 2016. As I would in New York, I wasn't opposed to finding a cafe to plant myself in for a stretch to edit the novel I'd partially drafted in Philly three years prior. It also allowed me to search through apartment listings when procrastinating doing the work I set myself out to do. During a stretch of downtime on Monday I found a cozy coffee shop, took a risk by connecting to public wifi, and began browsing the web when editing my own writing proved to be too much for me.
During my search, I came upon what I considered a curious listing for a one-bedroom apartment. The price was much lower than what I imagined it should have been for the space, and while there were only a couple images (including the picture below of the main feature of the bedroom that I wasn't sure was a Murphy bed or something else as strange), the wording of the listing seemed quirky enough to make it sound legit. I reached out to the broker through StreetEasy and scheduled a viewing for the middle of the day on Wednesday.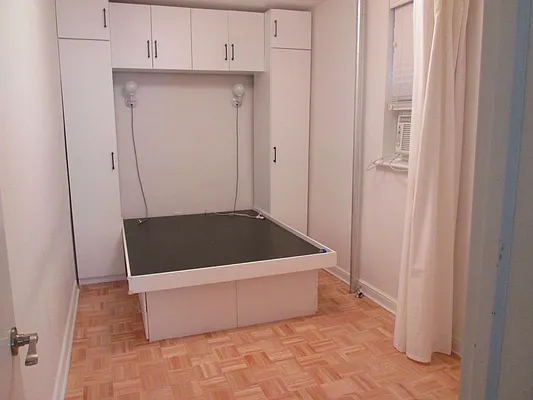 The viewing of the apartment went off without a hitch, and despite the giant hole in the kitchen wall I wrote to the broker that evening to begin the formal application process. What followed was a bit of an unorthodox trial, including an interview with the nonagenarian landlady and a meeting at Dunkin' Donuts with a second broker who was unrelated to the first broker that made me question whether this whole thing was a hoax. Thankfully I wasn't being scammed, and after some hemming and hawing I was the proud tenant of an apartment on the Upper East Side. If I hadn't made the mistake of requesting the extra day off, I likely wouldn't have scheduled a tour on that given day, and I likely would have lost out on the opportunity to rent what I considered to be the best deal in Manhattan.
—
I've been much more careful on subsequent trips to make sure all of my plans are airtight. I've erred a few times since, but nothing on the scale of mucking up an entire day. Most issues have arisen from not doing enough research before hand, like for example planning to eat at a few select places in Berlin around the holidays without knowing that almost all restaurants in the city close between Christmas and New Years, save for döner joints. No plan will ever be perfect, but thankfully when I do make mistakes I'm usually able to find ways to improve my situation for the better.
Honorable mentions for other important moments of 2017: Ohayo, Japan; The Carvel Cake Breakup; Declining Anesthesia 
Honorable mentions for other important moments of 2019: A Podcast Is Born; Operation 2K & Running A 5K